Look, I won a mini ball of yarn at the Alternative Knitting panel last week!
Isn't it cute? It's a baby skein of qiviuk yarn. What, you ask,
is
qiviuk? Well, according to the official
qiviuk
site:
Qiviuk is the inner down of the Canadian Arctic Muskox. It is a fiber of exceptional quality. Noticeably softer and lighter than cashmere, and 8 times warmer than wool. The Muskox is one of the Arctic most valuable resources.
At the end of the panel (which I will write more about later, or at least about the exhibit) they raffled off about 20 to 30 of these little guys, plus 2 grand prizes of scarves made from this yarn, all donated by
Jacques Cartier Clothier
. Here are a couple of pictures to demonstrate the scale of the yarn ball. Unfortunately, I didn't get any pictures of the scarves, but they were beautiful. From my vantage point in the back of the room, they looked big and shawl-like. The yarn seems to knit up very finely and delicately. Speaking of knitting up, I have no idea what I'm going to make with my new yarn. I'm not sure that I'd even be able to get a complete wrist-warmer out of it. Oh well, we shall see...
Here it is sitting next to my PDA.
The specs.
And one last picture of it all snuggled up next to a big ball of yarn. "Awwww..."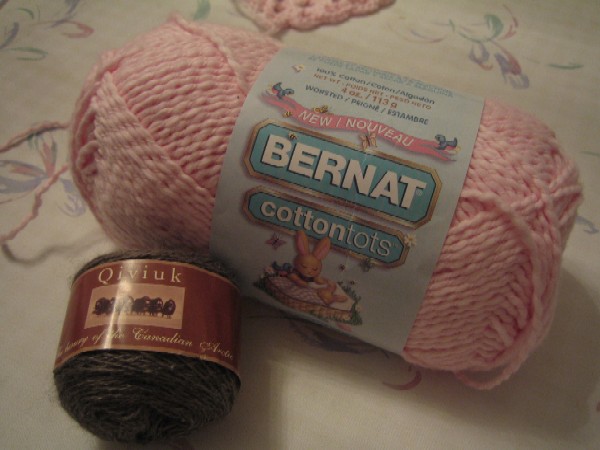 (If you look closely at the pic, you can see a corner of the yet-to-be-revealed project I'm working on.)